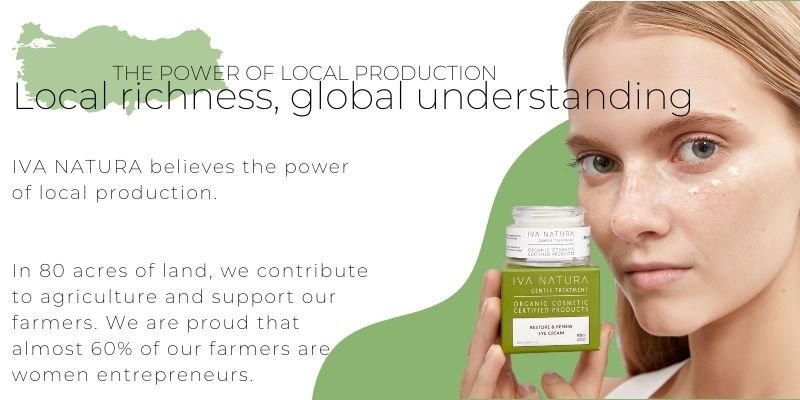 COOLEY SUPPLIES LTD is an Irish owned and managed company with headquarters in Co. Louth. We have built our reputation as a trusted supplier by offering a comprehensive range of quality products sustained by the knowledge, experience and support of our dedicated staff.
We are the exclusive distributor of Iva Natura Organic products in Ireland and the UK.
About IVA NATURA – #organicstateofbeauty
IVA NATURA skin and hair care products are clean beauty, environmentally friendly and fully organic from seed to harvest. Grown and manufactured in Turkey by parent company Laber Kimya, the company believes in the power of local production, and works with and supports local producers on farms spanning over 80 acres. 60% of IVA NATURA farmers are women entrepreneurs.
Founded in 2007, Laber Kimya makes private label products with excellent quality through sustainable consumption practices, and owns its own brands including IVA NATURA.
IVA NATURA CREDENTIALS
IVA NATURA has Etko Cosmos Organic certification. This certification provides standards related to cosmetics products produced with organic ingredients.
IVA NATURA is a member of PETA and the brand does not test on animals. PETA principaly believes in not using animals for food, against using animal skin for textile purposes, and not including animals in the entertainment industry.
IVA NATURA conducts production in accordance with GMP & ISO-22716 standards. Good manufacturing practices (GMP) is a series of protective amends aiming to prohibit contamination at each step of the production process, from preparation of products to distribution.
In accordance with European Union Cosmetics Regulations, IVA NATURA is registered in CPNP. This registration includes product category, name and the principal name and address, the names of countries to be exported, contact details of responsible person/s, and product material testimonies.
IVA NATURA does not contain any animal ingredients, so products are 100% vegan.
A significant part of the electricity used in production is provided by solar panels in the company's facility.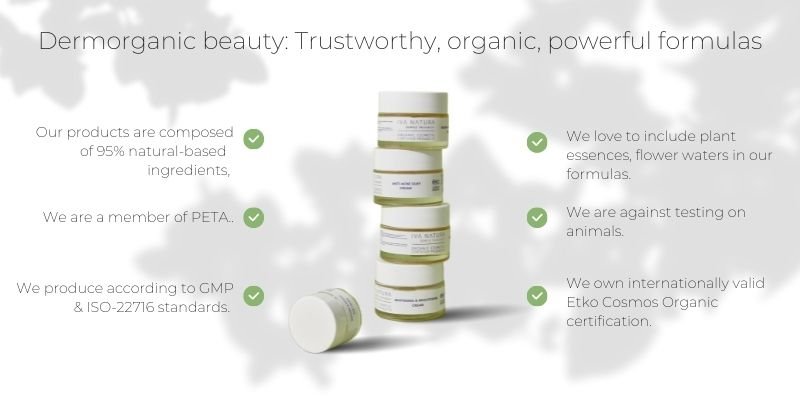 HOW ARE IVA NATURA PRODUCTS MANUFACTURED?
First, the company identifies which IVA NATURA products they plan to create. Next, they determine what the active substances of the products should be and which plants contain the required active ingredients. R&D studies are constantly working to produce powerful, effective and organic certified products, which they call Dermorganic.
Each of the IVA NATURA products contains many plant components with the same purpose. For this reason, in every IVA NATURA product, these components come together and help to create its unique formula and strengthen the product features.
IVA NATURA products use active liposome technology. Liposome technology ensures that the components of the plants in the products are used effectively and that the active component of the plant is absorbed by your skin in the fastest and easiest way when the product touches your skin.
After obtaining the extracts and/or waters of the plants, they move on to the production phase of the products. During production, the company does not use formulas that contain paraben, paraffin, gluten, SLS, silicone, or any toxic substances. At least 95% of IVA NATURA formulas are from natural ingredients. They produce in accordance with GMP standards and do not conduct any testing on animals.
The strength of IVA NATURA comes from the effectiveness of the formulations and our certificates from internationally recognized institutions and organizations. They argue that organic products can have effective formulas, and aim to ensure that every individual has access to these clean and effective products
These miraculous processes come from the healing and medicinal plants found all over Anatolia in Turkey. 60% of the people who carry out these agricultural activities are women entrepreneurs. As a manufacturer, IVA NATURA is extremely proud to support local production and to work shoulder to shoulder with local farmers, especially with the women-led producers.
For IVA NATURA products, the following plants are carefully collected, fully traceable and brought to the production facility in Izmir including: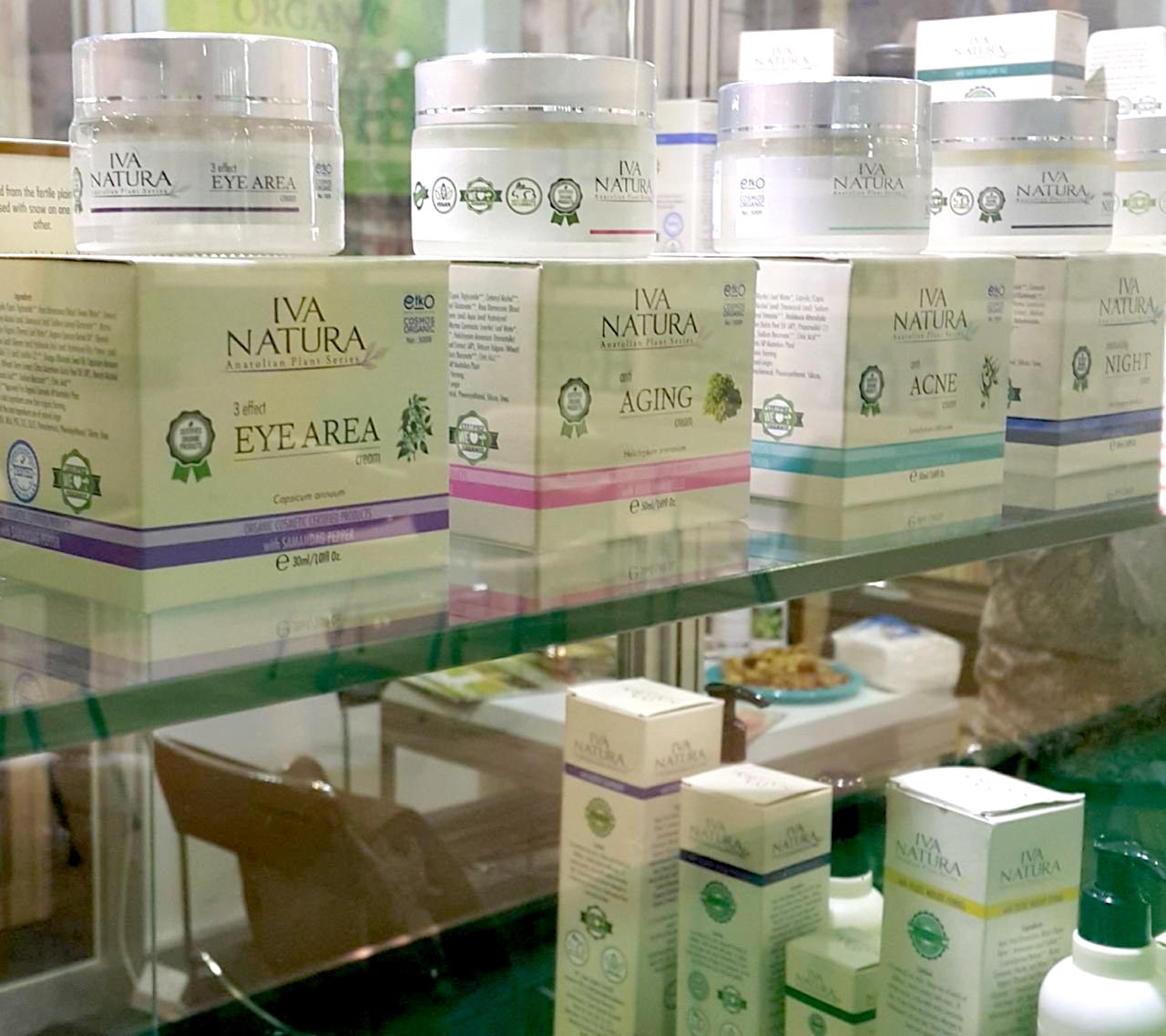 Immortal Flower from Aydın
Immortal Flower from Mount Cilo, Hakkari
Çobansüzgeci from Diyarbakir
Mineral Water from Van Lake
Licorice Plant from Konya
Wheat Germ from Mardin
Samandag Hot Pepper from Hatay Samandag
Olive Oil from Izmir
Pıtrak Licorice from Mount Ararat
Lavender from Izmir
Comfrey Grass from Kaz Mountains
Blueberry from Black Sea Ayder Plateau
Salt of Salt Lake
Munzur Geveni from Munzur Valley
Tangerine Flower from Antalya
St. John's Wort from the Taurus Mountains
Horse Tail from Adıyaman
Spear Grass of Kars
Thyme from Coruh River
Fennel from Yıldız Mountains